Overview
A heel spur is a painful condition that is caused by the accumulation of excessive calcium under the heel of the foot. The heel bone is made up of a large structure called the calcaneus, which is connected to the bottom of the foot by durable connective tissue called fascia. If the layers of connective tissue become damaged or begin to degenerate due to wear and tear, plantar fasciitis may develop. This causes calcification, which refers to the abnormal buildup of calcium on the heel bone. As the calcium continues to accumulate, a calcified protrusion called a spur may become visible on an
X-ray
.
Causes
One common cause of heel spurs and related injuries is due to abnormal mechanics and movement of the foot, also referred to as pronation. Abnormal gait, which is the way our feet hit the ground as we walk, also stresses the tissue of the foot, leading to conditions such as plantar fasciitis and heel spurs. Pronation can cause the foot to become unstable during movement, affecting the gait and leading to damage. A sudden increase in weight can also influence the development of a painful heel spur.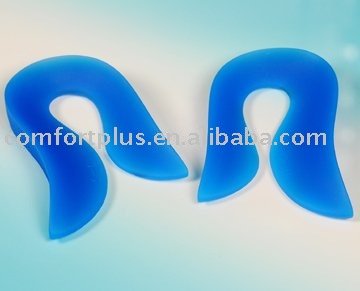 Symptoms
Some symptoms at the beginning of this condition include pain and swelling, and discomfort when pushing off with the toes during walking. This movement of the foot stretches the fascia that is already irritated and inflamed. If this condition is not treated, pain will be noticed in the heel when a heel spur develops in response to the stress. This is a common condition among athletes and others who run and jump a significant amount.
Diagnosis
Sharp
pain localized to the heel may be all a doctor needs to understand in order to diagnose the presence of heel spurs. However, you may also be sent to a radiologist for X-rays to confirm the presence of heel spurs.
Non Surgical Treatment
Over-the-counter or prescription-strength anti-inflammatory medications can help temporarily, but can cause side effects with prolonged use - the most significant being gastrointestinal upset, ulceration and bleeding. Deep tissue massage, taping and other physical therapy modalities can also be helpful. Arch support is highly recommended, either with shoe inserts or custom orthotics made by podiatrists. If pain continues, a steroid injection at the site of pain may be recommended; however, many physicians do not like injecting around the heel. The side effects of steroids injected in this area can be serious and worsen symptoms. Complications can include fat necrosis (death of fatty tissue) of the heel and rupture of the plantar fascia.
Surgical Treatment
Sometimes bone spurs can be surgically removed or an operation to loosen the fascia, called a plantar fascia release can be performed. This surgery is about 80 percent effective in the small group of individuals who do not have relief with conservative treatment, but symptoms may return if preventative measures (wearing proper footwear, shoe inserts, stretching, etc) are not maintained.
Prevention
To prevent this condition, wearing shoes with proper arches and support is very important. Proper stretching is always a necessity, especially when there is an increase in activities or a change in running technique. It is not recommended to attempt working through the pain, as this can change a mild case of heel spurs and plantar fascitis into a long lasting and painful episode of this condition.